This is a repost from a warm spring day in early 2008....
SPRING WEEKEND – 2 days of Chicago bliss.
The weatherman said it 3 days IN A ROW and I was a believer. 61 I packed myself a little day bag, threw on my Breast Cancer 3-day training shirt and my Nikes and headed to the Waukegan station.
I had had it planned for a week or so….a weekend (with a trip home in between) in the city. What could be better? I had goals. To put a substantial dent in my training, have an ice cream cone, catch a nap in Millennium Park, finish my book, get a great summer skirt or two, get a few great pics, and have a beer on the train home.
Here's what I accomplished. The train ride in was great – crowded, but great. The Great Lakes stop is always a challenge and it wasn't any different this day – in fact, because this was the first truly nice day of the spring, the station was more packed than I had seen it in ages. Throngs of sailors, families, more sailors I had no problem sharing the seat to my right.
The gentleman who sat down was slightly different from the masses. After some quips back and forth between him and his posse who had filled in around me, we were all exchanging our ideas about the city. I had given him suggestions of things to do with his buds. Ed Debevics, skip the Sears and hit the Hancock tower instead (different views from each side). So, they can hit Hooters in the lunch hour, and Eds at night.
I had learned he was 31 and had just enlisted in January for his first tour. He graduates from boot camp next week and is here at this base until Dec. I asked him, "Why now?" He said he was a service brat and it's always something he wanted to do and would probably re-enlist after he got done with this 6 year term unlike his comrades that probably wanted to explore life on the outside for a while. He had already done that. He had been playing golf since the age of 5 and eventually became a golf pro participating in the Nike tour and then didn't quite make it to the PGA tour as a player, falling short by 7 spots, but went on to be a PGA tour coordinator instead, then an instructor. We shared stories of our lives and laughed a lot. It was a nice trip on the train. Probably one of the more enjoyable 1 hr and 20 minutes I've had. At the end of our conversation, we finally introduced ourselves. His name was Jude. Funny, other than the actor, hadn't met a man named Jude before. I hope his day was as fun as mine.
After a fantastic fresh quesadilla from the bell, I made my way down to MI via Madison, stopping to take the obligatory pic of my fave building. State was calling and I was able to find a few cute summer clothes in some of the many chain stores. Somehow the selection in Chicago is always better. Goal completed. I also discovered the lost Baskin Robbins on Garland & Washington that I always seem to forget about. I waited on the cone though….but shouldn't have because I never got back there. Goal failed.
Upon heading north, there was a commotion at one of the corners by the Apple Store. There was a step-van giving out dozens and dozens of ice cold coca-cola bottles to passersby. What a treat! I hung outside on the street for a while (as many were also doing) to finish my refreshment before my obligatory visit to the Apple Store.
Here are a few pics from my walk up Michigan. I call these two 'The Mosaic' and 'Alphabet Soup'. The reflections were beautiful and the second just looked like letters. It had to be captured. The signature concrete cauldrons on the sidewalks were just sprouting with the tulips that would sure to be in bloom on a weekend I couldn't make it in to admire them. It always happens. I miss the 'window' between the planters looking glorious and them ending tired. A metaphor perhaps. My allergy eyes confirmed my belief that spring has indeed, sprung.
The Mosaic….
Alphabet Soup….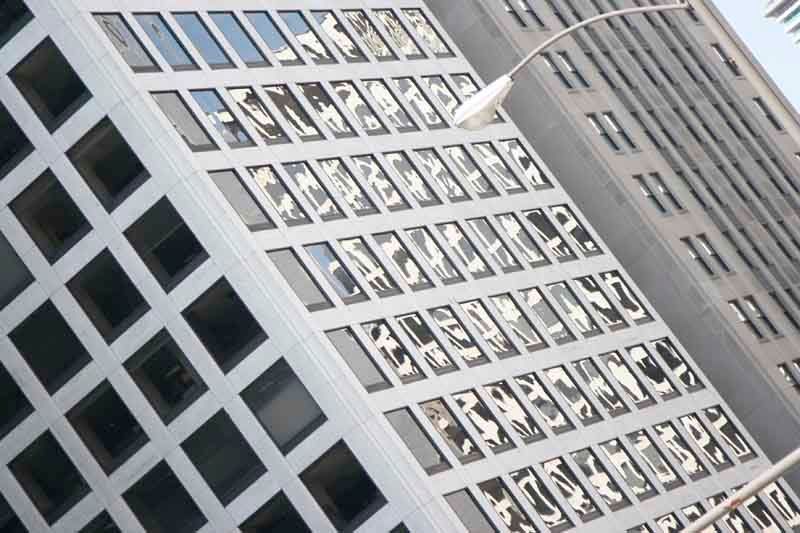 I continued to be the walkerazzi I am, clocking nearly 5 miles before even realizing it. Shopping helps break up the hits on the pavement. As I walk, I think of the inevitable blog inside me, making mental notes of things I've seen.
I made my way back to the Park and on the way, I got serenaded to 'When the Saints go Marching in' by one of the many toothless old street singers. In perfect Randy-speak, I should've said 'Dawg, that was awfully pitchy all over the place", but didn't. I made my rounds through the maze at the park and sat for a while to people watch, Sunday I stopped for about an hour and read my book, finishing it. Goal completed. Then, as I calculated the time I had left before making the journey back to Ogilvie, I made my final stop at the ramp between the Bean and the Fountains and selected my spot of terra firma and jotted down some notes for my blog and proceeded to take the afternoon nap I had been thinking about all weekend. Many others regaled in my same thought.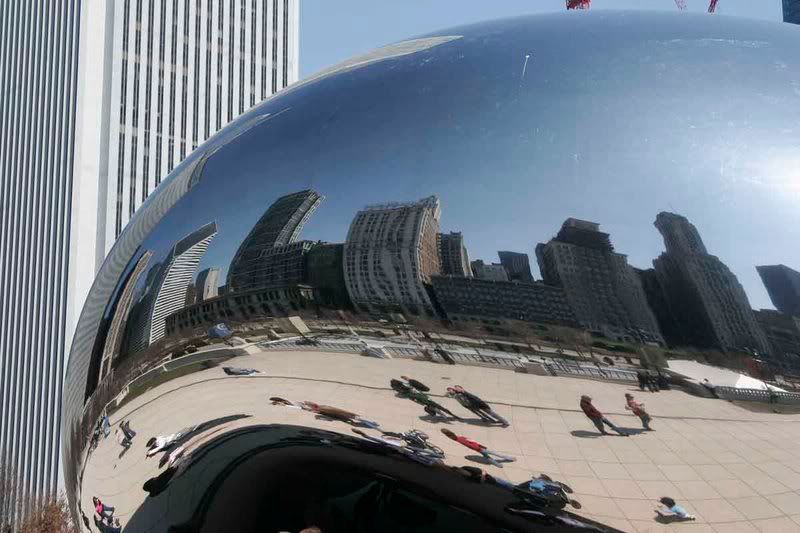 A little girl and her dad out for a day. A couple in their own paradise they call the park bench, several people doing business via phones, people being comforted, and many people sleeping the day away.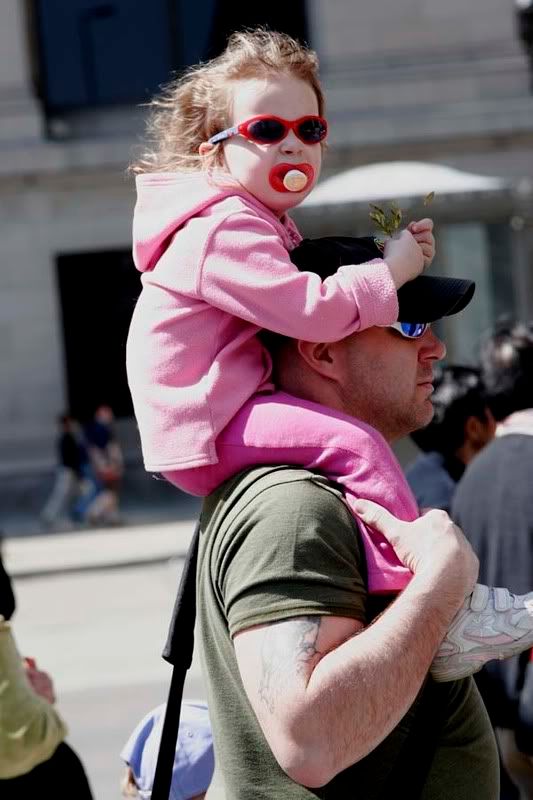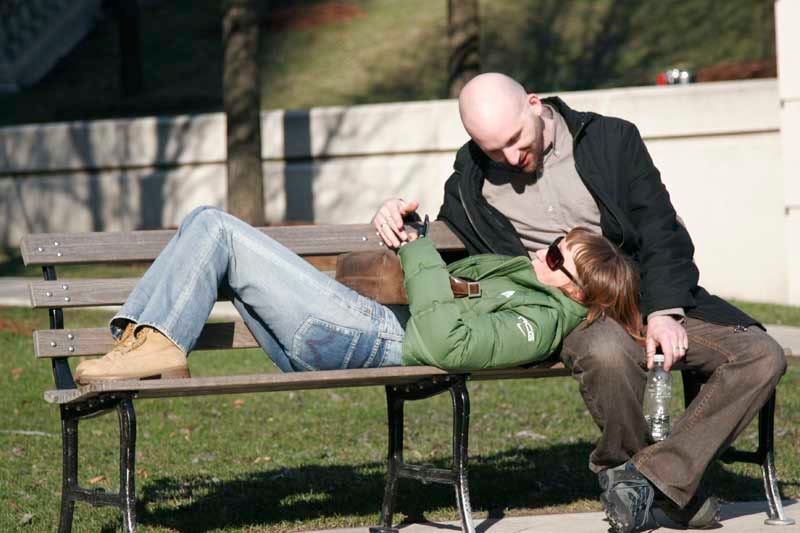 At 3:20, the vibrations started. I could feel it from the tip top of my clavicle down to the bottom of my tailbone. The El. I found it funny that I had never felt it through my Nikes (even upon being near) like I did feeling the roar of it through the earth I was lying on that day. I felt truly connected to the city at that moment. The song playing on my ipod was 'This Day' by Micah Dalton. How perfect. Goal completed.
The El….
The clock read 3:45 and that meant that I had to start making my way back to the station in order to make the sparse Sunday train schedule. I could tell it was Sunday and thus the end to my wonderful weekend. My walk back was stopped several times to cop a squat in the sun at the Chase Plaza (which I call the 'Stairway Jungle' and is packed with financial hotties during the lunch hours on weekdays) to soak up as much heat as I could before delving back into the cold shade of the skyscrapers. An omen. Back to the Metra. Back to reality.
The Stairway Jungle….
I make my train and begin to reflect on the weekend. I had started with 7 goals, and have completed 5 of them. No ice cream, and unfortunately no beer on the way home. Another day I guess. I was able to walk nearly 10 miles this weekend, got some great pics of some new things, purchased some great summer clothes, was serenaded a song, had my nap, started my book on the Sunday trip in and finished it in the park. Although I didn't get the cone or the beer, I made up for it at home and had my beer on Saturday night and fulfilled my need for some naïve-girl porn in the form of Matt Damon kicking ass as Jason Bourne on screen in a tight black Tshirt.
There's something tingly about a sailor not much younger than I am saying "Ma'am, it sure was a pleasure. Enjoy your taco bell" in that fine southern Navy drawl as he tipped his hand to his cap to me as we exited. Gentlemen do exist, and apparently, so do nearly perfect weekends.