DAY 3….Day 3 wasn't bad. We were actually going to be bussed somewhere closer to the city because it would've been too long to go from Des Plaines to Soldier field where the closing ceremonies were, so they bussed us in yellow school busses to Lincolnwood on the north side of the city.
Our route was up through Bucktown, Wicker & Lincoln parks, then on down the lakefront via the path along the lake all the way down to Michigan Avenue through all the hustle and bustle of the big city, something I was waiting for the whole weekend. I love the city more than anything and enjoyed this day the best. Here is us at about 3 in the afternoon before arriving at Soldier field….that last mile there was long, but very satisfying. The 3 of us had stayed together the entire day (where as Fri & Sat we split up some and walked together some) and walked arm in arm in arm across the final line amidst many many other walkers, crew, staff, medical people and family screaming 'You did it! You made it! You're our heroes, we love you, we're so proud of you! Thank you for walking!". It was such an amazing feeling and we all bawled behind our sunglasses until we collapsed on a berm by the parking lot across from the festivities where we were told to hold until the ceremonies were to begin.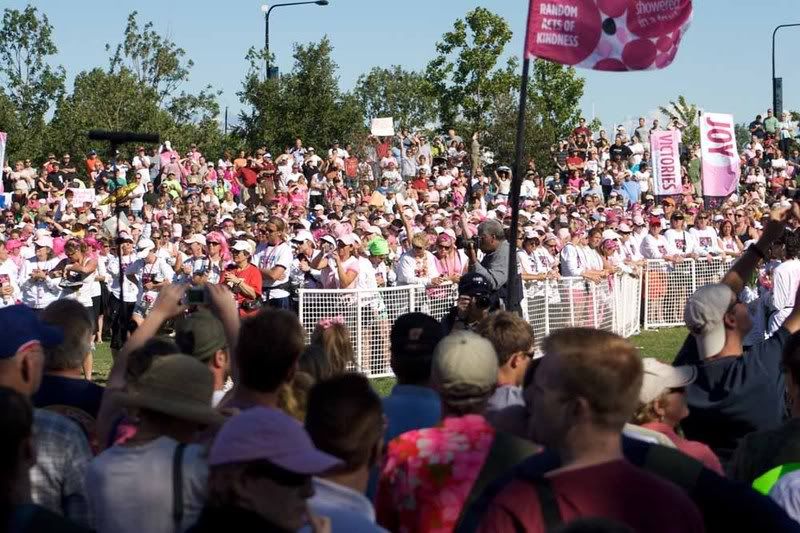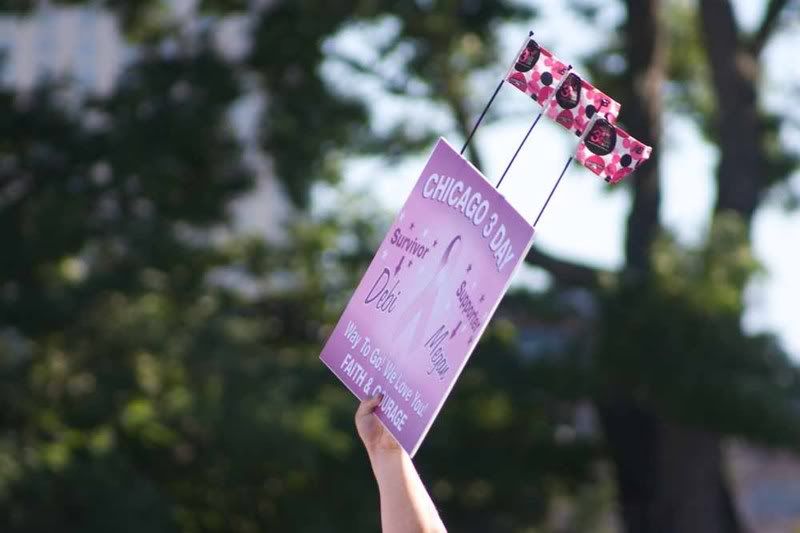 Pics of the 'brooms' that denoted the sweep vans on the routes…..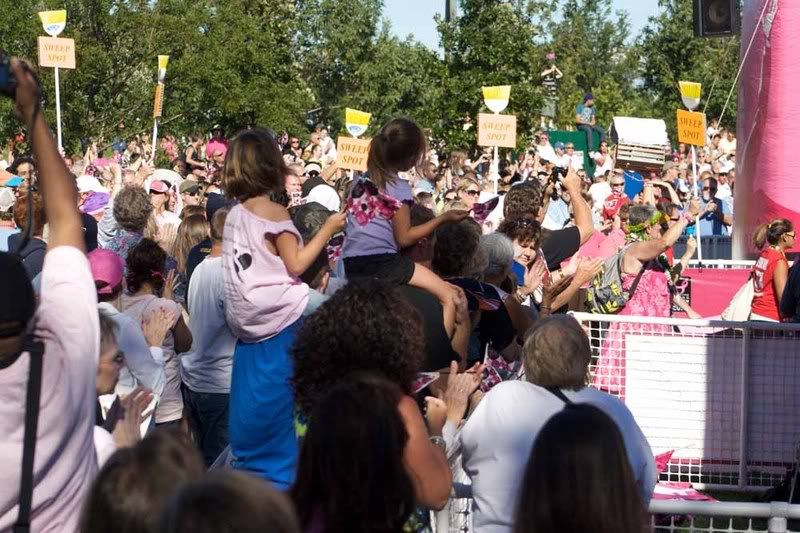 People made homemade signs and banners (like my mom and nephew did). It felt like you were the most wanted and appreciated people on the planet when you walked into that area with the stage.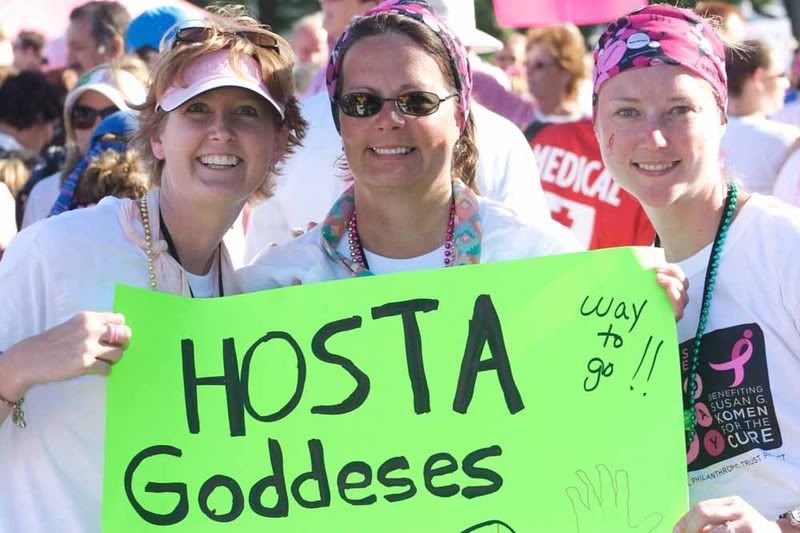 My sister somehow found us in the crowd and got other walkers to get my attention by saying "are you Rachel, there's someone that's trying to talk to you over there." It was great to see her and the hug was extra tight. Here's the pic she took of us. Our white shirt denoted walker, Grey were crew, and pink were Survivors and they went in first.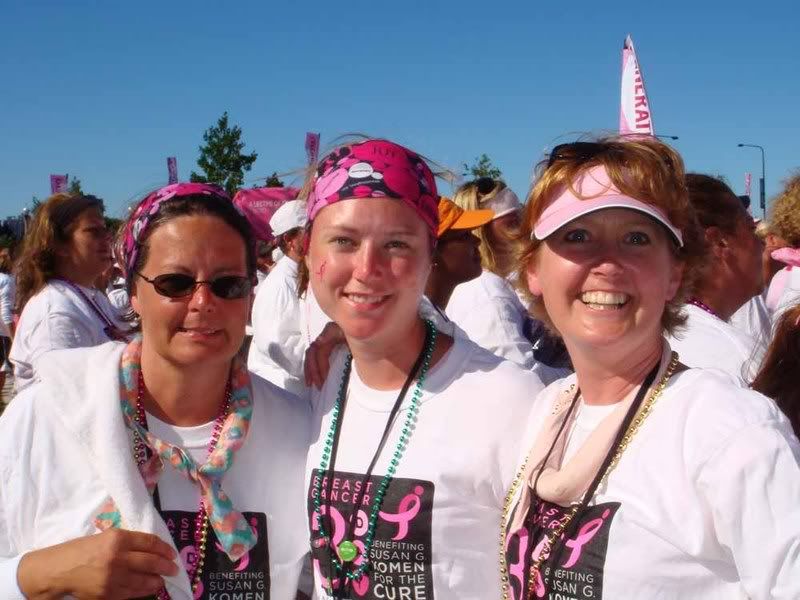 Closing ceremonies were very moving. There were speeches from the nephew of Susan G. Komen (the son of the sister who made that fateful promise to her dying sister), and the director of the event, as well as other survivors. The shoe removal part of the ceremony was especially moving (and let's admit that it felt good to take off the shoes.)
Here's our families….
And us….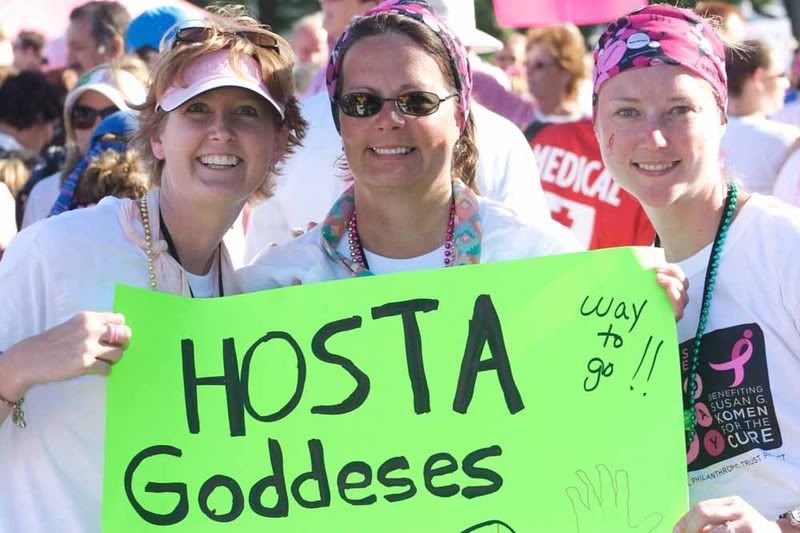 When we left the stadium, actually getting OUT of the area proved to be more of a hassle than we thought it would be. Luckily, my mom came prepared with brownies, rice krispie treats, chocolate chip cookies, drink boxes, some alcoholic beverages and soda, etc. to supply many walkers and their families as they waited in their cars in a huge line. We just sat on the curb by the car and enjoyed out new neighbor's company, Iris and her family.
It was an amazing experience, and what was even better, is that all 3 of us girls walked every stinking last mile….all 60 of them – no sweep vans needed. We plan on doing it again next year, and plan on doubling what we raised. This year the 3 of us raised $11,174. We're proud to say that we were able to do our part in helping rid our great world of this horrible disease. Who knows, breakthroughs in Breast Cancer, leads to breakthroughs in ALL kinds of cancer. My dad is a colon cancer survivor and I have a myspace friend who is also a survivor. And I know 3 ladies, all breast cancer survivors who all can continue to live thanks to the Susan G. Komen foundation. See you next year!!