DAY 2….Day 2 started out the same as day one, but we had a good breakfast after getting up at dawn and were on the road by 6:45 or so. It was cooler this day and looked like rain, so I made sure I had my poncho, but Tara and Deb had to get garbage bags from Walgreens. One person would buy a box and then just hand them out outside. The rain stopped within an hour and got warmer then.Here's pit stop 2 on day 2…..and Tara in her 'little black garbage bag dress.'
We walked a large circle around our camp that day, and my favorite part was the Mt. Prospect police department wore pink uniform shirts!
Lunch…..day 2…..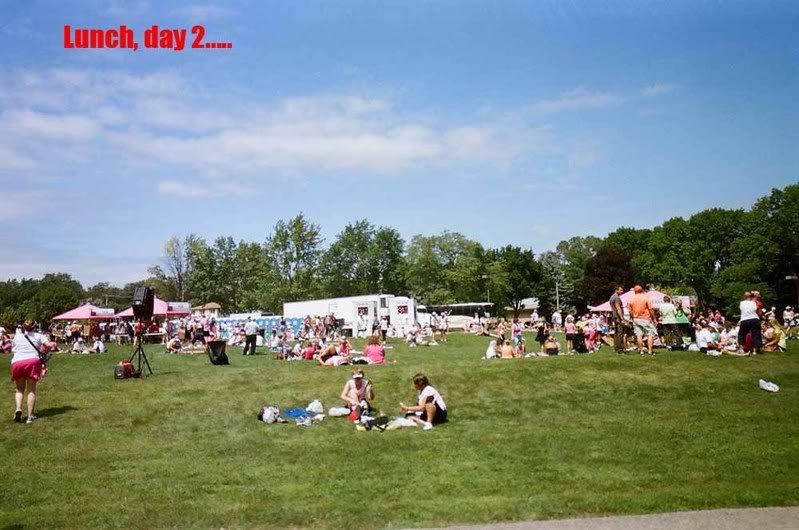 Throughout the days too there were 'cheering sections' – some larger than others – that really perked us up. In addition to people cheering and handing out candy, ice cubes, freeze pops, and sprays of water, they played music and cheered. Some of them had 'red carpets' that you cross and you had to dance across! There was also the Tata van that had a trailer in back that shot out bubbles and they had music going and the guys were dancing and cheering. That helped a lot to keep spirits and paces up during the day. We couldn't have done it without them. Their were 'spirit vans' going around too with boas hanging from it and horns honking. All great and very needed. There were these two 'angels (a husband and wife team. Later I learned the wife was a survivor)' who rode their bikes around keeping morale up. The man angel would stop and play baseball at local games, and be a goalie during the soccer practice. There's nothing like seeing an angel making a diving save at the soccer net.
Not only were there 'spirit vans' and people on corners that helped you through it, but there were 'sweep vans' that would basically pick you up if you couldn't make it another step walking. They encouraged people to use them and people did. There was no shame in this. They would bring you to the next pit stop. If you were done for the day, they had busses that would bring you back to camp to rest.My and Tara's husbands came to the cheering section in Glenview on Saturday afternoon. I went ahead after lunch while Tara waited for Deb and rested a while, and I got to rest at the cheering section while waiting for the girls…..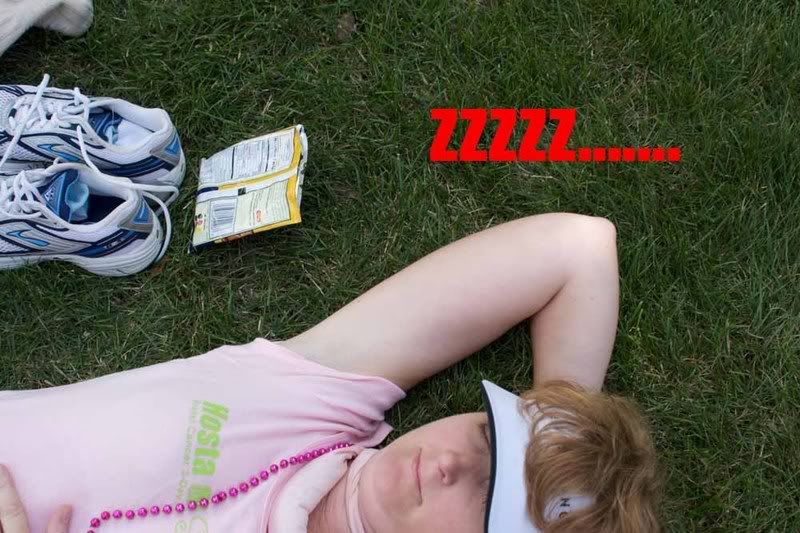 Here they are coming on in…..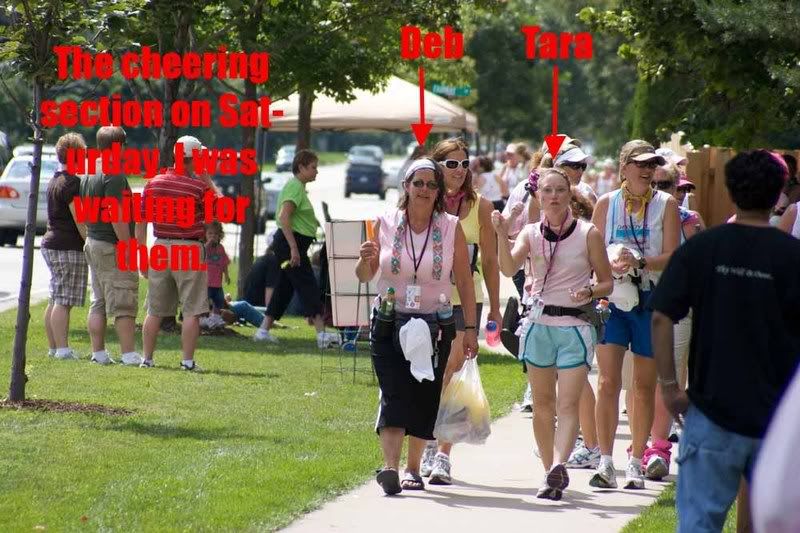 And some of us hanging out. We are about 3 miles from the end of Day 2 back to camp.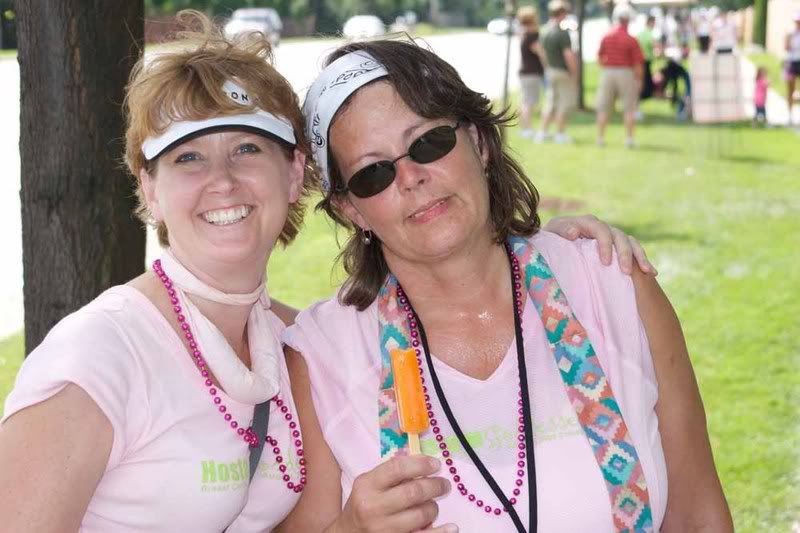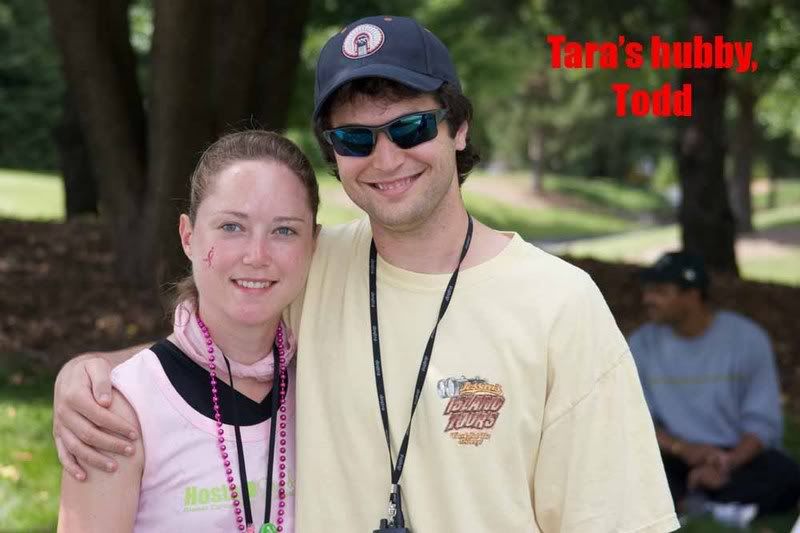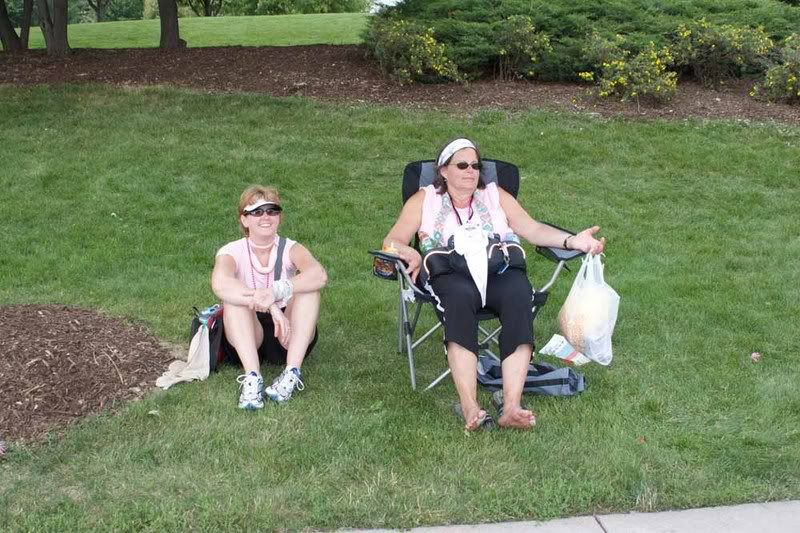 Day 2 we all agreed was the hardest day. We knew what to expect, but our bodies were still screaming. I didn't have many problems, although my arches hurt so taking off my shoes at every pit stop or grab N go was a must to stretch them, but no blisters so I was happy. Deb and Tara weren't as lucky, with blisters and other problems. So we felt that the last mile on Day 2 was the worst….it was the hottest part of the whole weekend and began to get humid. This was the last half mile to camp….and it took forever.