As many of you know, August 8-10 I participated in the Chicago Breast Cancer 3-day Walk benefiting Susan G. Komen for the cure and the National Philanthropic Trust. It seems like forever ago already, but I'm finally taking time to blog about the great experience…..
Complete with pics…..
My team and I (Tara, my team captain, and Deb) have been training since we signed up in late February of this year, I more than the others because I love walking so much. I have a '4-mile route' at home I walk at night to clear away the cobwebs. That sometimes works just as much as a cold beer and a good song. Not always, but most times.
If you had been reading my previous blogs, then you'd know that the most I walked at one time was 22 miles (to my mom's and back), so I had been pretty prepared.
This first one is of us at the hotel ready to board the bus to the opening ceremonies.
We left work on Thursday night and headed to our hotel because the prospect of getting up at 3am in order to get ready and get to Northbrook Mall where our opening ceremonies were by 5 or 5:30 wasn't too exciting. We got a good night sleep and arrived at the opening ceremonies at 5:45. What we saw when we got there was an amazing amount of people in crazy outfits, hats with nylon boobs on them, boas, pink, pink and more pink everywhere! People with bright colored socks and shirts so they were easily recognizable to family and friends were also there!
Here's what it was like….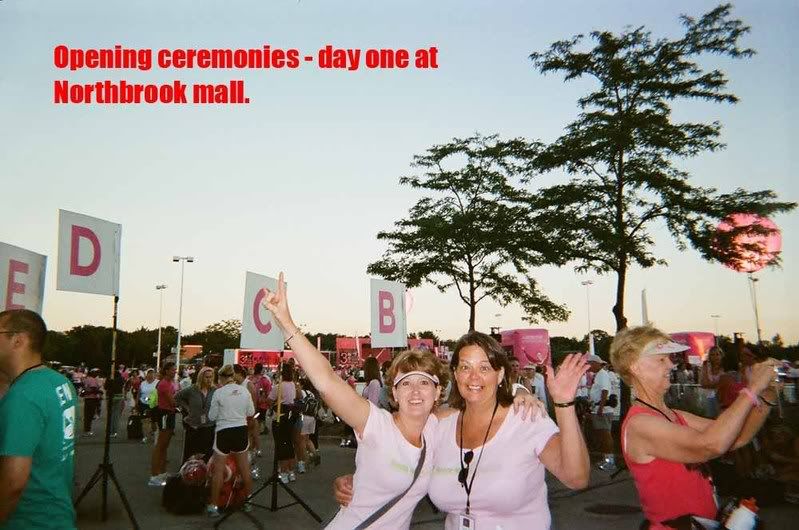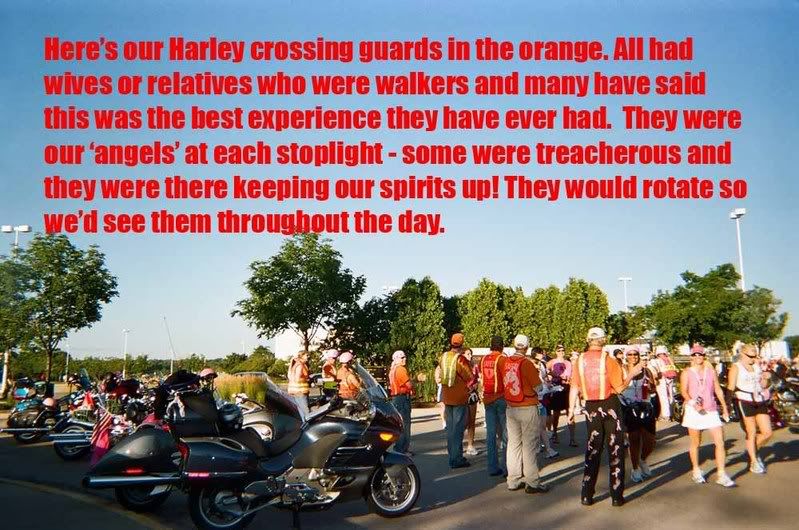 The weather was perfect all 3 days, with the exception of mid-Saturday morning where we got some sprinkles (thank God for garbage bags from Walgreens for Tara because she forgot her poncho). The weather was cooler and very unlike Chicago-land August weather, THANK GOD!Our first day was about 23 miles. It took a while for the crowds to thin out and get into a groove, but once we did, it was easier. The route was designed with pit stops or 'grab N go's' at ever 2-3 miles, something we grew to really count on! This is our first real pit stop. Pit stops have water, Gatorade, potties & all kinds of food – my faves were string cheese, raisin boxes, banana parts, chips/pretzels, but they also had other fruit (the oranges made my hands sticky), and Smuckers Uncrustables. The Grab N Go's had water, Gatorade and potties only. They were spaced opposite of each other.
Here is our first real pit stop and one of the tents. Lunches were decent and had different sandwiches or wraps for each day, along with some type of salad or coleslaw and fruit, as well as a dessert.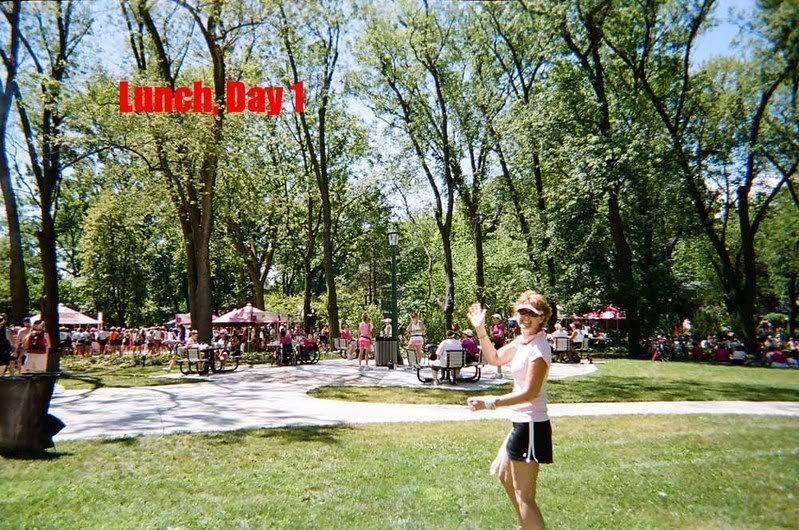 At the opening ceremonies, there were banners that signified different things (home, family, my sister, my mother, health, courage, etc.) and they were encouraged for the banner holder to keep passing the banners so that eventually most all the people could touch one and carry it throughout the first day. Here is Tara holding the Health banner…..
Our route on Friday was around Northbrook and heading to our camp, at the Oakton Community College grounds, so we headed out and made our way through the Botanic Gardens and continuing. We got to know how long it would take to reach our next stop and grew to love the site of the 'blue porta-potties on the horizon'……but the signs telling us how long we had were nice too…..the Harley crossing guards lots of times had that info too, telling us, "Only 1.8 miles til the next pit stop, ladies! Keep going strong!"
Camp was fun. 2400 tents or so in long lines denoted by letter and number….kind of like a prison! Haha! Seriously, it wasn't bad, and the dome tents only took about 2 minutes to put up. Here's camp, along with the shower trucks and towel service (an extra $12 and worth every penny) and the memory tents where you could write your own story and sign the memoriam tent with your loved ones name.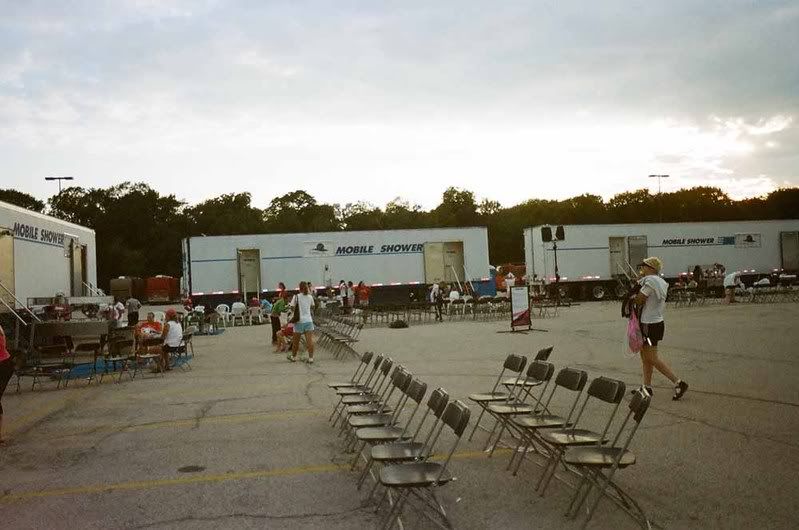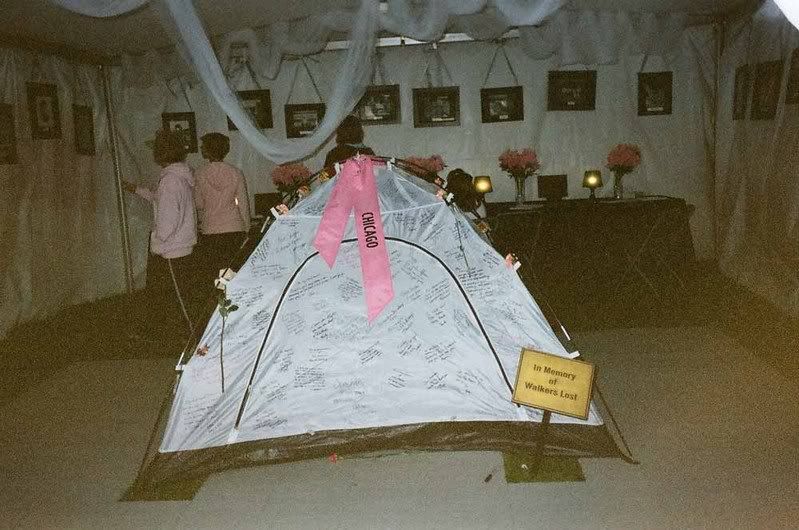 Dinner was a great hot meal and even though there were activities in the huge 'circus' tent and a little shopping area for gear and souvenirs, we pretty much were tucked in our tents and sleeping bags (it was about 55 at night so the sleeping bag was a must) by 8:30 or 9. Hey, you try walking 22 miles and see how long you stay up at night!