My kind of town….Chi-Ca-Go
I've been meaning to write this for a long, long time, and always stopped because I couldn't find the right words to say what I was trying to convey to the average layperson. Nothing I wrote sounded right, or expressed the feelings I wanted. I knew how I FELT, just couldn't quite explain it.
Anyone who knows me, knows that when I say 'the city', I'm talking about Chicago. I have so much I want to say, so forgive me if this comes out jumbled and just, well….wrong. I won't pretend to know everything about the city I love so much, exactly the opposite. I write what I know, occasionally bullshitting with the best of them, but never EVER will pretend to know first-hand what it's like to be an actual Chicagoan. I should be so lucky. I'm just a suburban middle-class housewife who longs with her whole being to live in the greatest city in the world.
My earliest experiences with the city came back when I was a little pintsized firecracker of about 9 or 10 when I would get the privilege to go to work with my dad (my stepdad, but my daddy since I was 5). He was born in 1927 in the city and grew up in the depression. He would tell me stories, many of which I'm blank to right now and make a mental note to take down some of the information more tediously, as I'm sure others would love to hear them. My Grandma Kunkel was a short little round polish woman, squishy to the touch and impossible to get my arms around. She and my dad both used to teach us polish phrases and sentences and unfortunately for those who knew polish, they weren't of the clean variety. "Smells like shit" was one of the prized jewels that my 3 year old sister was taught and variations of the like. When one learned a particular phrase, you only need know additional verbs to 'insert here'…..
My dad lived in the city for most of his early life and transplanted in his 30s to the north burbs of Pistakee Highlands in McHenry/Lake County. He built several homes, raised kids, married and divorced, twice…..but remained a true Chicagoan through and through. He worked downtown and amidst the suburbs every day delivering heating oil via truck, then later only in the winter, started his own paving company, then sold it and began working for Troch McNeil Paving Co. in Elk Grove Village until he retired in 1990. One of my fondest memories is always the smell of fresh asphalt for it brought me back to dad and our days on the truck in the summer together. I was with him when he paved Rosemont Horizon with his company. I would watch him go back and forth while laying on the stairway and learning the plans overhead, then hopping in to make another run to the plant to get more asphalt.
So, I would say my experiences really began when I was about 10, but really got to see the culture OUTSIDE of the truck at about 13. That was my first trip to Eds. Ed Debevics for the non-natives. The only place in the city where they welcome you to be rude, although at the time, I didn't know that to be the case, but it didn't bother me either way. It was jus neat to be there with the dancing, and the shiny barstools, and the crazy costumes.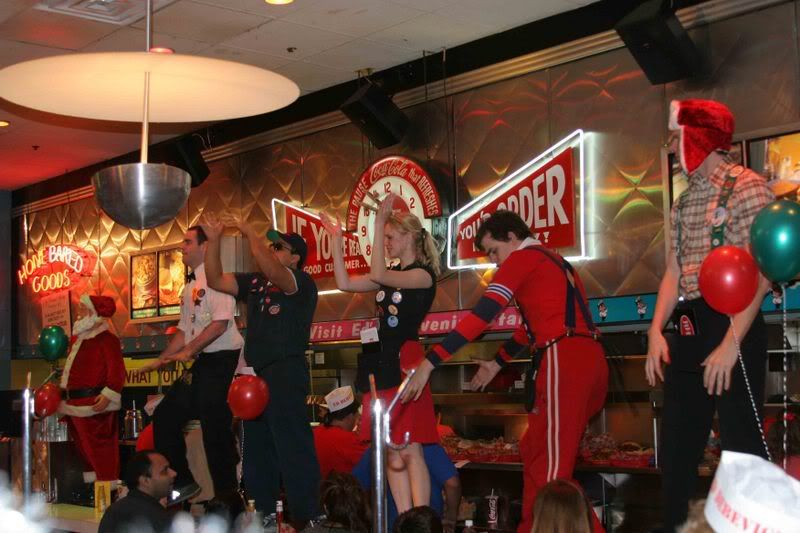 Unfortunately for the next 20 years, I really didn't get down to the city so much, so how wonderful it was that upon my 2nd marriage, my husband and I started to partake in the city more often, he having been there many times visiting with old friends from the Quad Cities to those large corporate bars, and I'm sure some of the smaller dives too til the wee hours of the morning. However, those trips became further and further between and now together, we only venture in once or twice a year to go to our favorite spot, Howl at the Moon. It is the perfect blend of piano culture and drunken mayhem. What can I say, it's my perfect environment.
In 2005, I ventured in with a friend after discussing we would bring our bikes on the Metra (the best invention for us stuck in the hicks away from the city) using the 5 dollar all weekend pass and then bike as far as we could home along the lakefront, and hopping the train when we got tired. Although upon discussion, opted that we were too chickenshit to drive our bikes in downtown to actually GET to the bike path and decided to hook up with a fellow co-worker who was hanging out down there in the Prairie Loft District neighborhood near 18th and would meet us for lunch and some cocktails. Hell, drinking in Chicago sounded like the next best option. It WAS. Good times, until we had to ride the train back and I had to do a photo shoot that afternoon while fighting a little hangover. Not good, but the pics were stellar.
Since that visit, I have make the trip whenever possible. At first, I would bring the camera and various lenses taking picture at every opportunity. Later, just got tired of not being able to venture where I truly wanted to go because of the equipment hassle and just decided to people watch and do all the things a native would do without assuming the persona of a tourist. Just BE.
To BE in Chicago is a challenge. You have to act like you know where you're going (and I'm sad to say, I still carry a fold out plastic map with me at all times for fear of getting lost) and have some attitude, all while enjoying the new splendors the city hands you at every visit. I don't pretend to know the neighborhoods but have walked to several to get pictures – Lincoln Park, Humboldt & Wicker Parks, the Loop of course and I'm sure many others that I have passed through and gone to actual establishments, but don't know the 'technical' neighborhood boundaries or names off of the top of my head. I'm still trying to learn the attitude without coming off as being a suburban bi-otch.
Chicago is my drug. Every time my metra train rumbles towards the station, I get this rush of emotion that is indescribable. I see the buildings and I just crumble. I am completely, hopelessly addicted to her. That sounds crazy, but anyone who loves the city and gets to live there, knows exactly what I mean. I literally swell inside when I get to see the different facets she lays out for me. I could sit for hours and hours (and have) at millennium park and the fountains just watching people. I have gone to the beach and felt comfortable there with about 50,000 other people. I try and think about what each person does during the day they are not where they were currently. I never see anything negative about the city. I guess I've been lucky, because of course I realize crime exists, but keep my quiet guard about me when walking like my daddy always taught me. Attitude and eye contact keeps me pretty safe. No one would dare mess with a pissed off redhead anyway. I'm feisty and my aim is good. Just because I've been burbed doesn't mean I can't take care of myself. Cab money isn't a bad thing to happen and don't get me started on how sexy I think the El's potential could be. To be down and dirty in Chi-town. A real native….maybe someday I'll venture and learn. After all, the city has many more places I've yet to explore.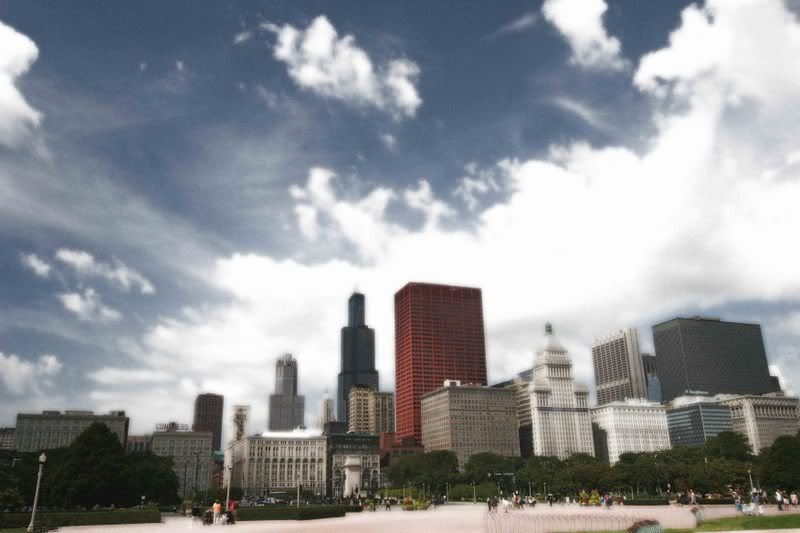 She's unassuming, yet not arrogant. She is secretive until she knows you are worthy for appreciating her correctly. Too many people take the city for granted, and thus maybe karma keeps those people in check. Hey, what goes around comes around, and no city needs that kind of hassle. She is the best kind of host, and is open to sharing her with everyone who dares give her the respect a good city deserves.
I watch that HGTV program called "What you get for the money" and Chicago is featured many times in the higher price point ranges of $400,000 to $750,000. I see them explore a beautiful contemporary loft – my dream house – and their many amenities and when they show the price tag that is nearly 15 times my annual salary, I find myself justifying to my brain that 'that's not that bad' or 'I could come up with that' not realizing that I'd have to sell a kidney and a couple of children in order to have that REALLY happen. I snap out of it when I realize that the property taxes alone would be my salary and the cost of one of those places I love so much are 5 times the value of my current home that I will own in approximately 26.2 years, free and clear.
After that revelation, I've been just resigned to the fact that the only thing I need for a good day in the city is a good book, comfortable walking shoes, my iPod and and a 5 dollar metra ticket. Everything else is provided for me by her majesty.
I'm lucky the natives let me share her with them. I'm honored and positively addicted, and for this I hope I am never cured.